Be a HOSPISS LV Friend – become a part of the legend!
For Hospiss LV to be able to continue its projects and create a long-term hospice care system in Latvia, regular donations are very much needed.
The heart of hospice care is a person who is part of a care team. Every team needs a centre. A place which provides quality medical, social and psychological care, has a multidisciplinary team and gathers fellow thinkers and educates volunteers.
Donated funds will be used according to current needs:
Maintenance of the Hospice Centre

,

Volunteer training courses

,

Administration and maintenance of the website,

Information materials and marketing
We kindly invite you to become a Hospiss LV Friend and support us monthly with your financial donations. With your help, we can create and maintain a hospice care centre in Latvia.
By donating, you will:
be an important part of creating a dignified end of life for terminally ill people,
support the creation of a new hospice care system in Latvia,
get invited to special seminars for your personal growth,
be informed about how other Hospiss LV Friends are doing.
How to become a Hospiss LV Friend?
1. Apply to Hospiss LV Friends' club  [APPLY]
2. Set up a monthly recurring donation in your internet-bank account [BANK DETAILS]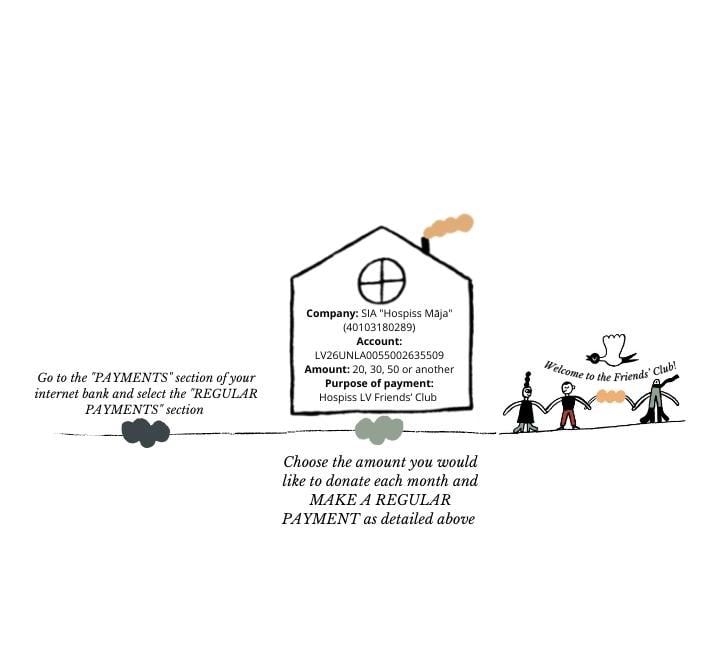 3. After sending your second regular donation you will officially become a Hospiss LV Friend and will be included in our Friends' list*
*If you wish your name to be publicly seen in the Hospiss LV Friends' list, please mention it in your application form
Be a HOSPISS LV friend – be a part of the legend – be a part of a better future!
Agita Bičuka
Alexandra Ageeva
Anastasia Kalinka
Andreta Grinite
Dace Peterson
Dace Striebule
Dace Tavare
Daiga Lukjanovic
Diana Kalnina
Elīna Strautniece
Evija Matveja
Evita Jurjāne-Nelsone
Ginta Drebeinika
Gita Feldhūne
Ieva Keiša
Ieva Priedniece
Ilze Dobele
Ilze Neimane-Nespora
Ilze Zosule
Imants Šķērstens
Inese Lūse
Inese Poikane
Inese Bernsone
Ineta Mūrniece
Inga Šnuka
Inita Krumholce
Irina Terentyeva
Irita Mežinska
Iveta Zinta Ivansone
Julia Mashutina
Kristīne Blūmentāle
Laila Žvarte
Laura Medne
Laura Zalāna
Laura Kulikowska
Liene Putnik
Lienīte Ansone
Līga Grantina
Līga Jankovska
Linda Zvirbule
Margarita Zhukovska
Margarita Shashilkina
Mārīte Lipša
Miks Duburs
Nora Biteniece
Odrija Sakne
Pavel Mastins
Rita Strangate
Ruta Vaičaite
Sandra Venta
Santa Siliņa
Santa Schiller
Cynthia Apse
Cynthia Reinberg
Vēsma Marhilevica
Wilhelmine Briede
Vineta Leikmane
Yadi Agnese
Zanda Krasta
Zanda Vilamas-Ehrenstein
Zane Eniņa
Zane Falsberg
Zane Dzene
Zinta Tiļļa-Zirne
+52 anonymous donors